FREE and FAST shipping with orders over €35.00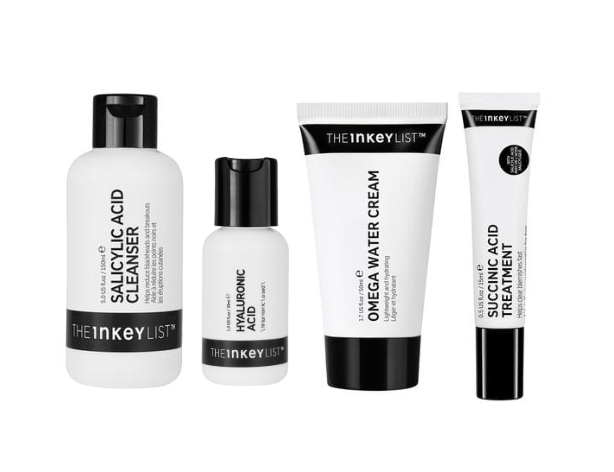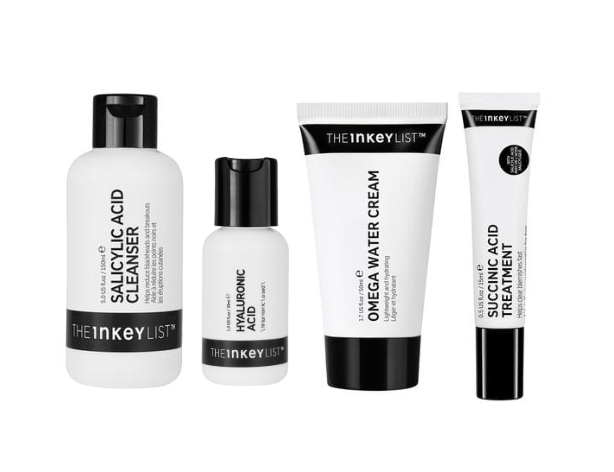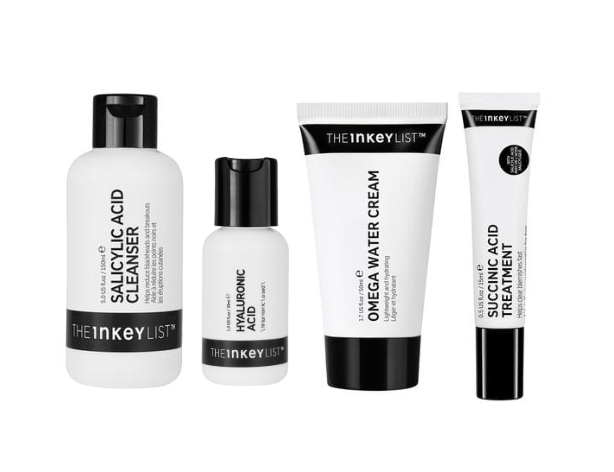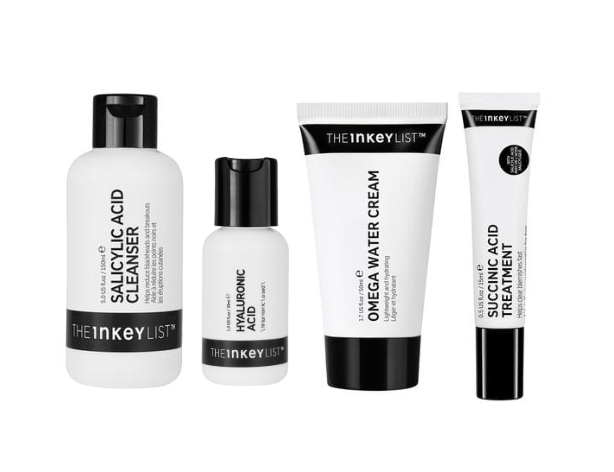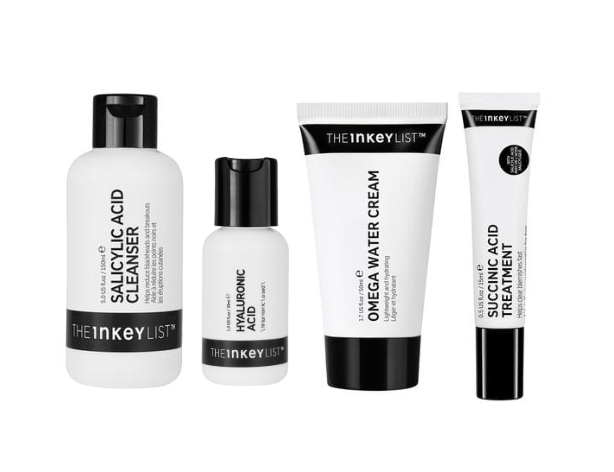 The Ultimate AM & PM Clear Skin Routine
Salicylic Acid Cleanser, Hyaluronic Acid Serum, Omega Water Crem, and Succinic Acid Treatment 
Over a €48 value!
---
The Inkey List - Salicylic Acid Cleanser 150ml
For: Everyone
What is it?
This non-drying, lightly foaming cleanser removes makeup and dirt, while penetrating deep into pores helping to reduce blackheads and breakouts.
As well as effectively cleansing the skin, this 2% Salicylic Acid cleanser has an added zinc compound. Together they help with oil-control, reducing blackheads and breakouts and promoting a more even looking complexion.
Can be used on your back and chest to help reduce body acne.
Targets: Impurities, Excess Oil, Enlarged Pores, Breakouts & Blemishes
Directions: 
Can be used in your AM & PM skincare routine.

Gently massage a small raspberry-sized amount of Salicylic Acid Cleanser onto dampened face and neck for at least 60 seconds, then rinse thoroughly.

Follow with a hydrating serum (e.g. Hyaluronic Acid) as your first step after cleansing, then apply preferred treatments & moisturizer. 
---
The Inkey List - Hyaluronic Acid Serum 30ml
For: Everyone
What is it?
Hyaluronic Acid Serum is easily absorbed and works across multiple layers of the skin, hydrating your skin, helping it appear plump and smooth, while reducing the appearance of fine lines. Hyaluronic Acid Serum is a powerful moisture-binding and non-sticky ingredient that works beneath the skin surface and can hold up to 1000x its weight in water. ​Combatting dry skin, Hyaluronic Acid Serum helps ensure your skin is hydrated and looks healthy, therefore it's a must have step in every recipe! No wonder one is sold every 20 seconds worldwide*
Targets: Dehydrated skin, Dry skin, Fine lines & wrinkles
Directions: 
Hyaluronic Acid Serum can be used in your AM & PM skincare routine.

We suggest using Hyaluronic Acid Serum as a first step after cleansing to help draw moisture into the skin.

On cleansed, damp skin, apply a pea-sized amount to the face and neck.

Follow with preferred treatments & moisturizer.
---
The Inkey List -  Omega Water Cream 50ml
For: Everyone
What is it?
Immediately hydrate your skin with Omega Water Cream, our oil-free moisturizer. As a lightweight and water-based gel moisturizer, Omega Water Cream supports a healthy skin barrier without oil or silicone in its unique formulation. Dermatologically tested, Omega Water Cream contains a simple combination of an Omega Fatty Acid Complex, Glycerin, Betain and Niacinamide. These ingredients work together to optimize long-lasting hydration, help control oil levels and even skin tone.
Targets: Dehydrated skin
Directions: 
Can be used in your AM & PM skincare routine.

After cleansing and hydrating, gently massage a pea sized amount of Omega Water Cream onto the face and neck.

For a super hydrating night treatment, add a few drops of Squalane Oil to your Omega Water Cream before bed.
---
The Inkey List -  Succinic Acid Treatment 15ml
For: Everyone
What is it?
Clear blemishes fast, reduce inflammation and prevent clogged pores with our non-drying, targeted treatment. With a cream formula, it is easily layered under makeup without flaking. With 2% Succinic Acid, the treatment gently reduces blemish size, reduces oil levels and unblock pores whilst also helping prevent them from clogging again after use. Combined with 2% Sulfur and 1% Salicylic Acid, this targeted treatment will help shrink blemishes and blackheads whilst remaining gentle on the skin.
Targets: Breakout & Blemishes, Blackheads
Directions: 
Can be applied to a blemish up to three times per day.

We suggest cleansing with Salicylic Acid Cleanser, followed by Hyaluronic Acid before applying Succinic Acid Treatment.

Place a small amount of Succinic Acid from the tube onto a clean finger and apply directly onto the blemish.

If you would like to use other skincare or makeup on top, leave the formula to dry for 5 minutes before applying.

The green coloured formula (obtained from natural chlorophyll derived from plant pigment) acts as a colour corrector to neutralise the red colour from blemishes.

If using after other actives such as exfoliating acids (AHAs, BHAs or PHA Toner), Retinol, Vitamin C, Niacinamide, we'd suggest to avoid applying these on the areas you wish to use Succinic on.